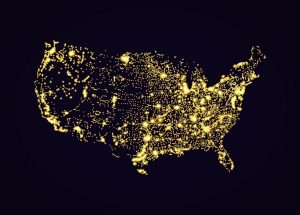 May 12, 2021– Faced with increasing threats from some pharmaceutical benefit managers (PBMs) and drug companies, supporters of the 340B drug pricing program have turned to state governments for protection and are finding increasing support in the form of new protective laws thanks to the work of 340B advocates in the states.
To date, 11 states have enacted important protections for 340B hospitals, community health centers, and public health clinics, and several others are actively considering them as states wind up their 2021 legislative sessions. One additional state is expected to join this group and another is on track to expand its protections when the governors of those states sign measures approved by their legislatures.
The laws address a recent trend by some third-party payers to reduce what they reimburse 340B hospitals versus non-340B hospitals for the same drug. The movement to enact state level protections began in 2019, with West Virginia passing a law that banned PBMs from "reimburs[ing] the 340B entity for pharmacy-dispensed drugs at a rate lower than that paid for the same drug to pharmacies similar in prescription volume that are not 340B entities." That law also prohibited PBMs from assessing any fees, chargebacks, or other adjustments on the basis that the hospital participates in 340B. The West Virginia legislation followed an attempt by CVS Caremark, one of the nation's largest PBMs, to sharply reduce payments to 340B covered entities in late 2018. That announcement led to a storm of protest and ultimately a reversal by Caremark in early 2019. West Virginia Gov. Jim Justice (R) signed the legislation in March 2019.
In 2020, three more states – Minnesota, Montana, and South Dakota – quickly followed suit by enacting laws similar to the West Virginia requirements. Momentum continued into 2020 with action from three additional states – Georgia, Oregon, and Utah – and 2021 has seen an acceleration in the trend with four states – Arkansas, Indiana, North Dakota, and Ohio – passing and signing 340B protective bills into law. At least two more are poised to become law – a new bill in Tennessee and an expanded set of protections in Montana.
These laws come at a time when two PBMs – Express Scripts and Humana – are taking actions to limit payments or impose burdensome reporting requirements, often a precursor to payment reductions. In North Dakota, legislators added a provision to their package that could charge PBMs with a misdemeanor if they violate the law.
Some Recent Added Twists
Recent legislation also has reflected the ongoing national dispute between 340B hospitals and six drug companies – Eli Lilly, Novo Nordisk, Novartis, Sanofi, United Therapeutics, and AstraZeneca – that have restricted payments to covered entities that contract with community pharmacies to dispense 340B drugs. Those actions have led to considerable debate at the national level, as 340B advocates have pressed the Department of Health and Human Services (HHS) to take action to reverse these policies, mandate reimbursement for lost discounts, and impose hefty penalties on the manufacturers in question.
In Arkansas, lawmakers passed a bill that not only prohibits discriminatory pricing by PBMs but  also bans drug companies from imposing limits on 340B discounts for drugs dispensed by contract pharmacies. Specifically, the Arkansas law prohibits a drug company from denying 340B pricing for drugs dispensed by an Arkansas-based community pharmacy under a 340B contract pharmacy arrangement. While there is some question about how the state will enforce such a law, it is a strong sign of continued support in states for 340B hospitals in this dispute.
Late last year, 29 state attorneys general sent a letter to then-HHS Secretary Alex Azar condemning the drug company policies and calling for action to end the dispute. One of those AGs was Xavier Becerra, who then was California's attorney general and is now the HHS secretary under the Biden administration.
State 340B Nondiscrimination Laws to Date
State
Enacted
2021
2020
2021
2019
2019, and pending
2021
2021
2020
2019
Pending
2020
2019
---
For more information about some of the latest state policy activity on 340B, please listen to a recent episode of our podcast, 340B Insight.