July 19, 2021–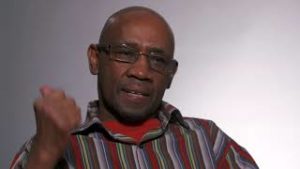 Despite lifelong health challenges, Chicago resident Tracy Kimble exudes a spirit of perseverance and independence. But there was a time in his life when Tracy felt the despair of being forced to choose between supporting his family and supporting his health. That's when UI Health in Chicago and the 340B drug pricing program intervened to provide the assistance he needed to do both.
Tracy is the newest patient in our Faces of 340B series. His pathway toward intersecting with 340B began as a young child, when he was diagnosed with hypertension and heart disease. Adding to the difficulty of managing his conditions was the fact that, at that time, there were no pediatric versions of the medications he needed. He was prescribed the adult versions, but this ultimately put additional strain on his kidneys.
As a 19-year-old college student, Tracy was hospitalized for kidney failure and went on dialysis. In the meantime, he wanted to understand his kidney disease better. So even though his passion was art, he pursued a different area of study that he paid for out of his own pocket.
"I went to medical school for a while to find out what was going on with me," Tracy said. "I ended up dropping out after two years with a B-plus average because I felt like I knew what was going on."
Life After a Kidney Transplant
After 11 years on dialysis, Tracy received kidney transplants through UI Health. Despite this positive development, he very quickly became concerned about whether he could financially afford to keep his new kidneys in good health. Patients who receive transplants need to take medications to ensure their body does not reject their new organs. The anti-rejection medication, though, costs thousands of dollars.
"How can I afford this?" Tracy thought. He was starting to resign himself to going back on dialysis, because he already had a tight budget that included supporting his family, covering rent, and paying off car loans. But he also was not comfortable asking anyone for financial help.
UI Health had a solution for him in the form of the 340B program. The health system uses its savings from the program to provide services such as a Medication Therapy Management Clinic and discounted drugs for patients who are uninsured, underinsured, or living with low incomes. Tracy started receiving the medications he needed at a steep discount, and this has enabled him to continue to keep his transplanted kidneys heathy. This support is especially important because some of the health insurance he has received through his jobs over the years has not covered his anti-rejection medications.
"If I couldn't get this medication, I would probably go back on dialysis because that's the only option," Tracy said. "I think I would stress myself out and stress the kidneys out just worrying about paying for it."
Focusing on the Future
Now Tracy has peace of mind to focus on improving his health and wellbeing without worrying about how he will afford it. That has made him very appreciative for all the care and support UI Health has provided to him with the help of 340B.
"Being at UI Health has helped me a lot with my medicine, with paying for it, and eased my mind and eased my heart," Tracy said. "I'm very comfortable and relaxed because of UI Health."
Check out Tracy's video profile on our Faces of 340B video page.