By Maureen Testoni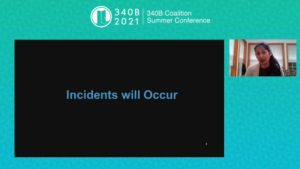 August 9, 2021– From my perspective, last month's 340B Coalition Summer Conference was notable for several reasons. The first was that it marked the 25th year of hosting the conference, reflecting on a quarter-century of work to ensure the 340B drug pricing program delivers on its benefits for safety-net hospitals, health centers, and clinics with a laser focus on compliance with federal government requirements. More than 1,100 professionals from the 340B community came together to share information and experience with using 340B to improve care for patients with low incomes and those living in rural communities.
I also am very hopeful that the conference will be the last time we gathered virtually due to the COVID-19 pandemic. Many of those attending have been on the front lines of this pandemic since its outset and continue their remarkable work today, caring for those who are ill and delivering vaccines into the arms of Americans across the country.
It is my belief that this latter point will be confirmed in January 2022, when our community can meet again in person for the 340B Coalition Winter Conference in San Diego. It is rooted in the same hope that I have for the rest of the nation and the world that we will put an end to the COVID-19 pandemic that has killed millions, sickened many more, and upended all our lives.
When I gave the opening address at this summer's conference, I discussed how hard this past year-and-a-half has been for health providers who have had to spearhead the nation's COVID response while keeping themselves and their loved ones safe. Our nation simply would not have made the progress it has against this disease without 340B hospitals, health centers, and clinics being such an instrumental part of the COVID treatment and vaccination efforts.
Yet with the rise of dangerous new COVID variants, we know the job is not yet done. With our renewed sense of hope comes an understanding that we in the 340B community also must remain vigilant against threats to the patient care mission. In numerous conference sessions that followed, it was clear that not all those challenges come from COVID itself.
Incidents Will Occur
Preparation and vigilance were themes woven throughout the conference keynote address by Syra Madad, D.H.Sc., M.Sc., MCP, a nationally recognized expert on epidemiology and pathogen preparedness and response. As senior director of the systemwide special pathogens program at NYC Health + Hospitals, the largest public health care system in the U.S., Dr. Madad co-wrote a December 2019 opinion piece on the need for the U.S. to prepare better for the next pandemic. Her words were chillingly prophetic, as just four days later the World Health Organization received notification from the Chinese government about dozens of patients being treated for a mysterious disease that would come to be known as COVID-19.
Dr. Madad also hopes for a brighter, post-pandemic future. But her experience and expertise has made her aware of the certainty that "incidents will occur, patients will present, and hope is not a plan." NYC Health + Hospitals' institutions and the thousands of other safety-net hospitals that were thrust onto the COVID front lines have learned valuable lessons that can help the nation be more ready for the next pandemic. But Dr. Madad notes that success in this effort will require the system's transformation from its current "just in time" approach to a "just in case" strategy of funding, stockpiling, and preparing for the inevitable next public health crisis.
We are proud of how the providers who make up the 340B Coalition are widely sharing intelligence for getting through this pandemic and making systemic changes in anticipation of the next major challenge.
A Mission Under Duress
The 340B program has been a bulwark for safety-net providers for more than the last quarter-century, and it has helped keep them strong during this intensely challenging time in our nation's history. But the pressures of the pandemic response were made even more challenging when they were magnified by harmful actions aimed at chipping away at the foundations of 340B.
Seven pharmaceutical manufacturers have now stopped offering 340B discounts that federal law requires on drugs dispensed to patients at community-based pharmacies. These companies are fighting in federal courts to block the government from enforcing this law, and all the while, safety-net providers and patients are paying the price for these unlawful actions.
Conference attendees heard from one of those many providers, a nurse practitioner from an endocrinology clinic in Peoria, Ill., who was forced to switch several of her patients with diabetes to lower-quality insulin that they could afford after all the major insulin suppliers in the U.S. halted discounts through community pharmacy partnerships. Government court filings cited Anne Webster's devastating story as a demonstration of how these unlawful attacks on 340B are hurting patients.
While we condemn the actions of this small group of drug companies, we also must recognize the hundreds of drug manufacturers that continue to honor their legal commitments to funding the health care safety net through discounted prices to providers. Their contributions to the safety net are vital.
The threats to 340B do not stop with those few drugmakers that are violating the law. Public and private payers, pharmacy benefit managers (PBMs), and other third parties are looking to snatch the benefit of program discounts intended to support safety-net providers and claim them for themselves. These are taking the form of discriminatory payment policies for 340B providers, burdensome claims identification requirements, and more.
Such actions have prompted more than a dozen states to step in and ban such actions, and bipartisan support is growing for a federal solution to this problem.
What's Next for 2021
Interest in and scrutiny of the cost of prescription drugs in the U.S. has reached some of the highest levels in history. In a conference keynote address, national drug pricing expert Mike McCaughan underscored how drug pricing remains high on the 2021 priority list for many on Capitol Hill and in the White House. He reminded attendees that 340B likely will come up during those debates.
The environment that McCaughan describes poses remarkable opportunities for our nation's safety-net providers to show our leaders how 340B will remain an integral element of the future of drug pricing and patient care in the U.S. But it also heightens the need to stay vigilant that any proposed policy changes do not undercut the benefit and promise of 340B.
The conference reminded me how the shared patient mission at the core of the 340B program helps sustain it even amid great adversity. Presenters shared best practices for running compliant, effective 340B programs to enable more care for low-income and rural patients. They discussed how they are growing the 340B body of research and expanding their storytelling to demonstrate the value of the program to patients in need. They recommitted themselves to educating policymakers and the public on the great need to protect 340B.
That remarkable sense of unity, dedication, and continued vigilance is a key source of the renewed hope that I have for the future.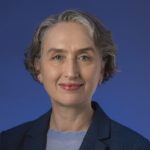 Maureen Testoni is the President and CEO of 340B Health