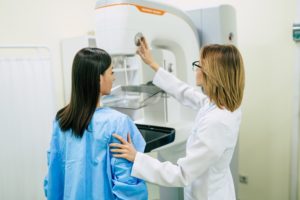 Oct. 22, 2021– Each October, national organizations aim to make more Americans aware of what they can do to prevent and treat breast cancer as well as support people whose lives have been affected by the disease. Breast Cancer Awareness Month also is a time to look at how the 340B drug pricing program can help expand prevention and treatment efforts.
Screenings Are Key
Breast cancer is the most-diagnosed cancer and the second-leading cause of cancer death in the U.S., according to the Centers for Disease Control & Prevention (CDC). Awareness efforts have focused on the importance of regular screenings that can enable early detection and optimal treatment.
The importance of such efforts is what prompted Johnson County Hospital in Tecumseh, Neb., to start holding an annual breast cancer awareness event, just one of the many community health benefits that the critical access hospital (CAH) offers with the help of its 340B savings. The free educational event brings in health professionals to speak to community members about breast cancer risk factors and recommended screenings, including annual mammograms.
340B hospitals help fill gaps in access to breast cancer screening, especially for patients living with low incomes. Research has found that more than 86% of 340B disproportionate share (DSH) hospitals provided mammograms and other breast cancer screening services, compared with less than 70% of non-340B acute care hospitals.
Abigail Stempson is one Johnson County Hospital patient who believes she owes her life to this awareness initiative. After attending the event, she scheduled a mammogram, which had abnormal results. Follow-up screening resulted in a rare diagnosis of a precancerous form of cystic hypersecretory hyperplasia with atypia. She underwent a mastectomy and credits this 340B-funded event for providing her with lifesaving education.
Aid for Those in Treatment
The 340B benefits to breast cancer patients do not stop with support for education and prevention services. 340B hospitals very often are where patients turn after they receive a diagnosis and begin their treatment plans. And for patients who cannot afford the costly services that go along with those plans, 340B enables ways to make the care affordable.
Erika Aguero was one of these patients. She was uninsured when she found out she had breast cancer and became very worried when none of the providers she called would be able to treat her at a cost she could afford. Then Mount Sinai Hospital in Chicago told her that it would use its 340B-funded patient assistance program to provide her with the chemotherapy she needed for a nominal fee.
Aguero says the news was an emotional moment for her and her family. "I felt like I had a new opportunity to carry on and keep fighting," she said. Her account echoes that of many other patients expressing relief that the 340B assistance enabled them to focus on achieving better health without worrying about how they would be able to afford it.
Pursuing Equitable Access for All
Safety-net providers are leaders in breast cancer screening, treatment, and patient assistance for those in need, but there remain patient populations that have proven more difficult to reach. 340B hospitals are major players in working toward a solution to that problem as well.
The National Cancer Institute recognizes 71 hospitals across the country as designated cancer centers on the cutting edge of care for patients with the disease in the U.S.. They are recognized for their scientific leadership, resources, and commitment to cancer prevention, diagnosis, and treatment. Fully 75% of these centers are affiliated with 340B hospitals, further solidifying the link between the program and the latest advances in cancer care.
Karmanos Cancer Institute in Detroit recognizes the role the health system plays in ensuring equitable cancer care for all patients, regardless of race, ethnicity, or income. Part of the issue is rooted in the fact that certain patient populations have different risks than others. This includes what are known as triple-negative breast cancers, which disproportionately affect Black women in the U.S.
That's why Karmanos developed its Office of Cancer Health Equity and Community Engagement, which aims to identify cancer research needs among underserved Michigan communities and work to address them on the clinical side. Another Karmanos partnership with a community-based health network aims to boost quality of cancer services in rural areas of the state, where access to advanced care can be difficult to achieve.
A Continuing Mission
Reflecting on breast cancer awareness during this month means acknowledging that much more progress remains to be achieved. The breast cancer statistics in the U.S. continue to provide a sobering reminder that the disease is still prevalent and deadly. Dedicated safety-net health providers and 340B resources will be important elements of improving this national outlook.