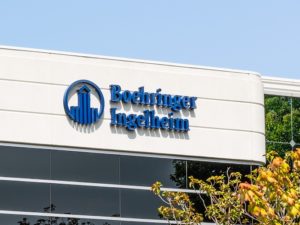 Oct. 12, 2021– Eight drug companies have restricted access to discounts to safety-net providers through the 340B drug pricing program on drugs dispensed at community-based pharmacies. Now the government officially has informed all but one of those companies that they are in violation of federal law and must restore the discounted pricing.
The most recent recipient of a government enforcement notice on this issue is Boehringer Ingelheim (BI), a privately held company based in Germany with a major presence in the U.S. drug market. On Oct. 4, the Health Resources & Services Administration (HRSA) sent BI a letter informing the company that the policy it implemented on Aug. 1 cutting off 340B pricing for hospitals through community pharmacy partnerships is unlawful and must stop immediately. HRSA asked BI to provide a plan by Oct. 18 on how it will restore the discounts, and the agency directed the company to credit or refund all hospitals that it has overcharged since it implemented the policy.
A Familiar Enforcement Process
The letter did not come as a surprise to the 340B community, as HRSA already had sent nearly identical letters in May to Eli Lilly, Sanofi, AstraZeneca, Novartis, Novo Nordisk, and United Therapeutics. Those companies had imposed their own 340B pricing restrictions on covered entities with community pharmacy arrangements at various times since July 2020. Yet despite the drug industry being on notice after that first round of letters, BI went ahead with imposing its unlawful policy in August. The drug company Merck followed suit in September, cutting off 340B pricing for hospitals that do not agree to hand over community pharmacy patient claims data that the company is demanding.
The eight drug companies that have targeted 340B community pharmacies have slight variations in their approaches. BI's policy, for instance, only applies to hospitals, and it exempts drugs that the company distributes through specialty pharmacies.
But as it did with the first six companies, HRSA makes clear that refusing to offer the mandated discounts on drugs dispensed at community pharmacies is breaking the law, even if covered entities are permitted to access discounts on some of or all their 340B-eligible drugs by meeting certain requirements manufacturers place on the discounts. "Nothing in the 340B statute grants a manufacturer the right to place conditions on its fulfillment of its statutory obligation to offer 340B pricing on covered outpatient drugs purchased by covered entities," HRSA writes to BI, using the exact language the agency employed in its May letters.
Taking It to the Next Level
HRSA made the official determination that BI is in violation of 340B law by ascertaining that the company was overcharging 340B hospitals, a process that relies in part on overcharge notices that hospitals file with the agency against the company. 340B Health is urging hospitals to continue filing such overcharge reports against all companies refusing discounts but especially against Merck, which has not yet received an enforcement letter from HRSA since it implemented its September restrictions.
Observers do not expect BI will follow the government's directive. The first six drug companies responded to the May letters by stepping up their activities in federal courts, where the drugmakers have sued the government to block its enforcement of the 340B law in the context of arrangements with community-based pharmacies.
But the government has escalated the matter as well. In addition to continuing to vigorously defend its statutory authority in the courts, the Department of Health and Human Services (HHS) is tasking its Office of Inspector General (OIG) with determining whether the first six drug companies are liable for steep financial penalties for their continued refusals to follow the law. If BI and Merck persist in their restrictive policies, they may be next in line for referrals to the OIG for civil monetary penalties.
Financial Upsides for Drug Companies
In the meantime, safety-net providers and the patients who rely on them continue to pay the price for BI and the other seven companies blocking 340B discounts. Among the drugs that have had their discounts cut off are costly therapies for patients living with diabetes, asthma, chronic obstructive pulmonary disease (COPD), heart disease, and other conditions.
Two of those BI diabetes drugs, Jardiance and Tradjenta, generated a combined $2.6 billion in Medicare Part D spending alone in 2019. The average list price for 30 tablets of 10 mg Jardiance is more than $600. BI has hiked the prices of those drugs so quickly that 340B requires the company to sell them to safety-net providers for a penny per unit under the program's system of inflationary penalties. But when the company refuses to sell the drugs at the 340B prices to safety-net hospitals, its private owners can drive up revenues by avoiding both the base 340B discounts and the inflationary penalties.
"HRSA again makes crystal clear that the law requires drug companies to discount their prices when selling drugs to safety-net providers no matter where the drugs are dispensed," 340B Health President and CEO Maureen Testoni said in a statement. "Now that HRSA has acted, it is up to BI's leadership to do the right thing and reverse this unlawful policy."