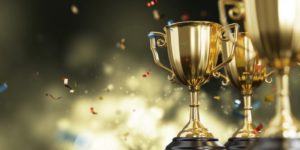 Dec. 17, 2021— The success of the 340B drug pricing program in providing crucial care to those in need is backed up by both a growing body of research and the personal testimonials of patients and health care providers. Behind that success are dedicated professionals who help ensure that safety-net hospitals run effective, efficient, and compliant 340B programs.
Throughout the year, we have been celebrating some of these professionals. The 340B Health Champions program recognizes those who have become especially accomplished in furthering their 340B proficiency and educating policymakers and the public about why 340B deserves a strong future.
Olivia Little, Johnson County Hospital, Nebraska
Olivia Little is the 340B director for Johnson County Hospital (JCH), a critical access hospital in Tecumseh, Neb. She is such a strong advocate for the 340B program because it has enabled JCH to expand needed services for the rural community it serves. That includes 3D mammography, chemotherapy infusions, and community benefit programs for patients who otherwise would not be able to access that care close to home.
Olivia first became involved in 340B advocacy through her hospital's government advocacy committee, through which she attended her first local open office meeting with a lawmaker in her district. Since then, she has endeavored to attend every such event and take advantage of opportunities to meet with members of Congress in Washington, D.C.. She also has written numerous opinion pieces in support of the 340B program, safety-net hospitals, and the patients who rely on them.
It is that capacity for 340B to benefit the health care system – and the variety of threats to the program that keep arising – that helps motivate Olivia in her advocacy work. Now that she has become familiar and proficient in those efforts, she works to encourage other program professionals to become more involved.
Daisy Butrim, MedStar, Baltimore
Daisy Butrim is the multisite 340B program manager for MedStar Franklin Square Medical Center and MedStar Harbor Hospital in Baltimore, which serves a diverse population of patients with high rates of chronic health conditions and comorbidities.
Daisy first became involved in 340B advocacy by attending 340B conferences and legislative meetings on Capitol Hill. Since then, she has worked with her colleagues to schedule lawmaker site visits and create a website to showcase how MedStar hospitals use 340B savings. After Rep. Dutch Ruppersberger (D-Md.) visited the medical center and heard from hospital staff about such 340B initiatives, the congressman immediately signed on as a cosponsor of the Protect 340B Act (H.R. 4390), an 340B nondiscrimination bill.
"Engaging with lawmakers and advocating for the 340B program helps to protect the program and ultimately protect and serve our patients who need it most and may not otherwise get the care they need," Daisy said.
Bibi Wishart, Atrium Health Wake Forest Baptist, North Carolina
Bibi Wishart is the 340B program director for Atrium Health Wake Forest Baptist, an academic medical center and health system based in Winston-Salem, N.C. In that role, she oversees 340B for three hospitals serving patients the western portion of the state through medication access and specialized clinical services.
Bibi became involved in 340B advocacy because she wanted to be a voice for her hospitals and the patients in need whom they help. Because 340B is such a complicated program, poorly written policies or laws could have a devastating effect on their ability to provide that care, she noted. Advocacy can help educate those who have knowledge gaps about 340B and influence decisions by policymakers that can affect the program.
At her last legislative visit to Capitol Hill, a legislative aide recognized her from a previous meeting, underscoring the importance of cultivating such relationships.
Son Doan, MedStar Georgetown University Hospital, Washington, D.C.
Son Doan is the 340B program manager at MedStar Georgetown University Hospital, a disproportionate share hospital based in Washington, D.C. The hospital uses 340B to serve a diverse patient population through such initiatives as cancer prevention and navigation, school-based health clinics, mobile health and fitness clinics, patient transportation, and more.
Son regularly attends 340B conferences and legislative visits to Capitol Hill, and she uses the opportunities not just to tell her hospital's 340B story but to hear how other hospitals are using their program savings. She sees advocacy as being crucial way to bring the work that 340B hospitals are doing on the front lines of health care to the attention of lawmakers.
Son has helped bring attention for 340B issues to Eleanor Holmes Norton, the District's delegate to the U.S. House of Representatives. "I feel that by attending 340B advocacy events and bringing awareness to Delegate Norton, this has brought light to the amazing programs at GUH and what we are able to offer due to our 340B program savings," she said. "It helps lawmakers to see how important this program is firsthand."