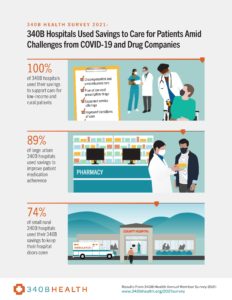 April 8, 2022— New research demonstrates the essential role that the 340B drug pricing program played for safety-net hospitals in a year marked by enormous financial pressures that were both naturally occurring and manmade.
An annual 340B Health survey of more than 500 hospitals participating in 340B found that all reported using savings they received through drug discounts to benefit their patients in 2021. This commitment to the patient mission stayed consistent amid extraordinary stress from both the COVID-19 pandemic and what the federal government has called unlawful attacks on 340B from a growing group of drug companies.
What the Survey Says
Hospitals reported in the survey that they invested the 340B savings they obtained through outpatient drug discounts into a wide range of patient care and support services in 2021. They provided uncompensated care and free or low-cost drugs to patients who could not afford them. They offered services to patients that cost more to deliver than the revenues they bring in. They increased access to affordable care for patients with low incomes and those living in rural areas, consistent with the intent of 340B.
Hospitals reported positive results from these investments in the form of improved patient health outcomes. They include improved patient adherence to medication regimens, reduced hospital readmissions, and more effective patient transitions from hospital to non-hospital settings. For rural 340B hospitals, the importance of 340B savings to patient care was even more existential in nature. Nearly three-quarters of those hospitals said that the savings helped them to stay open in 2021.
A Persistent Pandemic
The survey results are even more striking when one considers the financial burdens that safety-net hospitals faced when responding to COVID-19 in 2021.
With major surges in COVID patients stemming from the rise in virus variants, hospitals again found themselves scrambling to respond in ways that strained their finances. Many hospitals were forced to cancel elective surgeries and close off access to other nonemergency care for extended periods of time. The COVID patients they were treating often required longer hospital stays and complex services that were costly to deliver. All that came on top of the costs of obtaining personal protective equipment and implementing safeguards to protect patients and caregivers.
Many of the surveyed hospitals on the COVID front lines reported that 340B savings were a lifeline during this stage of the pandemic, providing vital resources to help respond to the pandemic and stem the overall loss of revenues. As one critical access hospital (CAH) in the survey put it: "Without 340B benefit, our small CAH would close its doors. So the 340B program is 100% helping us respond to COVID-19."
The Toll of Drug Company Actions
A growing group of drugmakers increased the pressure on an already strained health care safety net in 2021. The survey demonstrates the extent of the increasing problem.
At the time of the survey, eight drug companies had pulled back from their legal commitments to provide 340B discounts on drugs dispensed at hospitals' community and specialty pharmacy partners. Large, urban hospitals reported that these actions deprived them of an average of nearly a quarter of the savings they otherwise would have obtained through these partnerships. For small, rural hospitals, that average was nearly 40%.
Hospitals also highlighted the dangers of these drug company limitations continuing and becoming more acute. Survey respondents said the cuts could lead to decreases in uncompensated care, cuts in services that require subsidies to operate, and reductions in financial assistance for patients who cannot afford their prescription drugs. More than 60% of small, rural hospitals worry that the drug company actions could force them to close their doors.
Danger Ahead
Since the 340B hospitals participated in this survey, the drug company-induced strain on the health care safety net has more than doubled. The number of companies imposing 340B limits has increased from eight to 16, now including many of the largest drugmakers in the world.
"Hospitals clearly are staying focused on fulfilling the intent of 340B even under great financial duress," said 340B Health President and CEO Maureen Testoni. "What is less clear is how well these hospitals will be able to continue doing so for all those in need as more drug companies refuse to contribute the needed resources to such patient care efforts."
Read the survey report to see the full data on how 340B hospitals used savings toward patient care in 2021 and see more details on how drug company restrictions affected those savings.