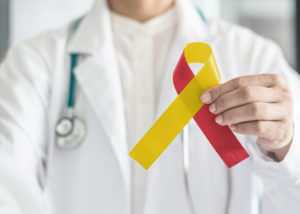 May 27, 2022 – In January 2021, the Department of Health and Human Services (HHS) published a strategic plan to eliminate viral hepatitis by 2030. Hospitals participating in the 340B drug pricing program are a key element of that ambitious goal. They are using their 340B savings to achieve measurable improvements in health outcomes for patients with hepatitis C.
National Hepatitis Awareness Month provides an opportunity to highlight the best practices 340B hospitals are implementing to treat and cure patients living with the disease.
Pharmacists on the Care Team
For decades, 340B hospitals have been on the front lines of battling viral hepatitis, including for the benefit of patients whom the broader health care system historically has underserved. Research has found that hepatitis patients treated at 340B hospitals are more likely to be Black or living with low incomes than those treated at non-340B hospitals.
Hepatitis C is the strain of the virus that leads to the majority of the 20,000 deaths in the U.S. each year from the disease. Drug companies have created effective medications to treat or even cure the disease. Safety-net hospitals, community health centers, and clinics use 340B discounts to access these effective but costly medications. To cure the disease, patients must adhere to a medication regimen over several months that often costs more than $80,000. This can be a challenge for patients who are experiencing financial, transportation, housing, and other barriers to health access while undergoing their treatments.
Enter pharmacists that become crucial members of the care team by ensuring patients follow their treatment plans. 340B hospitals have reported great successes in care improvement by following this integrated care approach.
Examples of Success
Maine Medical Center launched a project during the COVID-19 pandemic that added pharmacists to a primary care team focused on hepatitis C patients. The project relies on funding from 340B savings. Pharmacists provide patient education, recommend vaccinations, assess for side effects, and more. These wraparound services help patients complete their full courses of treatment. Through the program, the hospital has measured a 150% increase in the number of patients started on treatment for hepatitis C compared to when the pharmacist was not integrated into the team. In addition, 100% of participating patients obtained four-week, post-treatment lab tests as compared to 58.8% for the group receiving primary care without pharmacist involvement.
Einstein Medical Center in Philadelphia uses some of its 340B savings to place pharmacists in an outpatient practice who work with hepatitis C patients. The pharmacists meet with patients to educate them about the disease, discuss the treatments they need, and preview what they can expect during the recovery process.
Regional One Health in Memphis, Tenn., has a hepatitis C program that it staffs and coordinates using 340B savings. The program screens patients for the disease, notifies them about treatment programs, communicates with them throughout the recovery process. Nearly half of the 300 patients testing positive for hepatitis C have participated in treatments, and half of those patients – including many who were uninsured – have been cured.
Boston Medical Center operates a primary care hepatitis C program in which 97% of participating patients were found to have no signs of the virus in their blood three months after completing treatment, an outcome that is considered the gold standard of care. The medical center published research concluding that without 340B discounts, its hepatitis C program would lose $370 per patient and that the hospital likely could not afford to maintain the program.
Barriers to Support and Access
Drug company restrictions on 340B discounts are one relatively new barrier to patients accessing such 340B-funded treatment services and medications for hepatitis. The restrictions provide another hurdle in the way of safety-net providers striving to help eliminate the disease in less than a decade.
The leading drugmakers of viral hepatitis medications – AbbVie, Gilead, and Merck – are among the 16 companies that have placed strict conditions on providing 340B discounts to hospitals and other safety-net providers when the drugs are dispensed at community and specialty pharmacies. These pharmacy partnerships help providers stretch their 340B savings further and often enable hospital patients to pick up their medications at a pharmacy close to home. 340B hospitals warn that the restrictions could force them to cut back on hepatitis treatment programs and could force patients to travel farther to obtain critical hepatitis medications, raising the risk that they will not stick with their treatment plans.
National hepatitis and HIV patient organizations are sounding the alarm about how 340B restrictions are affecting patient care. AIDS United, the National Alliance of State & Territorial AIDS Directors (NASTAD), the National Viral Hepatitis Roundtable (NVHR), Ryan White Clinics for 340B Access (RWC-340B), The AIDS Institute (TAI), and Treatment Action Group (TAG) recently published a joint statement that urges the drug companies to restore the 340B discounts. 340B "enables these covered entities to support and tailor care models that address health disparities among underserved populations identified in the HHS Viral Hepatitis National Strategic Plan," the groups state.
The statement spells out what is on the line: "We strongly encourage manufacturers of hepatitis C medications to reconsider their 340B covered entity reporting requirements and contract pharmacy limitations, and work with stakeholders towards meeting the shared aim of forging an equitable path towards curing and ultimately eliminating hepatitis C."