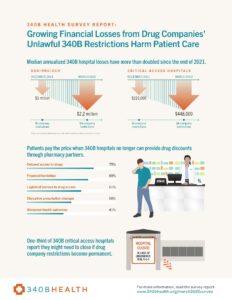 May 18, 2022— Safety-net hospitals participating in the 340B drug pricing program are reporting that the negative effects of restrictions imposed by pharmaceutical companies on access to drug price discounts are rapidly rising. A new survey of more than 500 hospitals participating in 340B finds that the financial losses from these restrictions more than doubled in three short months.
Safety-net hospitals report the restrictions on pricing for drugs purchased by hospitals and dispensed at community and specialty pharmacies are having a negative effect on patient care. Hospitals worry that could grow worse if the policies are left in place. Urban hospitals – including disproportionate share (DSH) hospitals, sole community hospitals (SCHs), and rural referral centers (RRCs) – estimate their annual median loss at $2.2 million a year, with one in 10 projecting their losses at more than $21 million a year. In December, those hospitals had projected a median loss of $1 million a year.
Among small, rural critical access hospitals (CAHs), the median annual loss is nearly a half-million dollars, with one in 10 expecting those losses to exceed $1.3 million a year. In December, the median loss was $220,000. Operating with much smaller margins, many of these rural hospitals have said they might be forced to close if the cuts become permanent, leaving rural communities without a major source of care. Since 2010, 138 rural hospitals have shuttered.
A major reason for the mounting losses is the fact that between December and March, the number of drug companies imposing restrictions on 340B pricing grew from eight to 14. Since then, it has increased further to 16, including the world's largest drugmaker Johnson & Johnson, so the latest estimates are lower than they would be today.
The Price Patients Pay
Hospitals report these financial hits are having negative effects on patient care, and they warn that the situation will become worse if the restrictions stay in place. Hospitals that provide free or low-cost drugs to their patients through their community pharmacy partners report that patients are being forced to endure delays, financial hardships, or logistical barriers to receiving needed drugs. Patients who cannot afford the higher prices are switching to less-effective therapies or seeing their health decline when they skip doses or go without the drugs altogether.
Hospitals that use their 340B savings to invest in patient services and support are worried that they will be forced to pull back on some of those offerings if the drug company restrictions become permanent.
"These drug companies are draining vital resources from the health care safety net by blocking hospitals' access to 340B discounts through community and specialty pharmacy partners," 340B Health President and CEO Maureen Testoni said in a statement. "By focusing their unlawful policies on some of the costliest specialty drugs on the market, these companies are pocketing 340B savings for themselves and circumventing penalties Congress included in 340B to inhibit massive drug price hikes."
The Burdens of Claims Demands
Ten of the 16 companies that have imposed 340B restrictions have tied them to claims data demands. Hospitals with community and specialty pharmacy partners will continue receiving 340B discounts on drugs dispensed at such pharmacies only if they hand over millions of claims for those pharmacy patients. While some safety-net hospitals have agreed reluctantly to do so, they report difficulties in regaining access to 340B discounts under their community and specialty pharmacy arrangements.
In a recent letter to federal health officials, 340B Health detailed the immense administrative and financial burdens that claims data demands place on 340B hospitals. The letter describes how hospitals submitting data are needing to divert resources away from patient care to comply with the manufacturers' demands.
Hospitals also are concerned about what the drug companies will do with the 340B claims data they are demanding. In the newest survey results, large percentages of hospitals worry that the information could lead to payment discrimination by pharmacy benefit managers (PBMs) and insurers against 340B providers, potential patient privacy violations, and removal of 340B providers from health plan networks.