Oct. 18, 2022–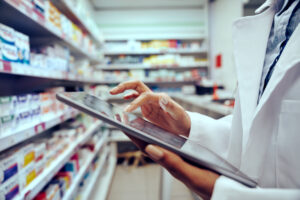 When patients consider their interactions with a hospital pharmacy department, they immediately might think of a pharmacist. However, all these departments also rely on pharmacy technicians to operate smoothly. These dedicated techs provide a wide range of support to ensure an efficient pharmacy that complies with regulations and enables patient access to needed medications.
Oct. 18 is Pharmacy Technician Day, which is an opportunity to examine more closely the roles these health professionals play in patient care. The day also provides an opportunity to reflect on some of the challenges the profession faces and some of the ways techs are tackling those challenges.
Life as a Hospital Pharmacy Tech
According to Tyffani Wingfield, director of membership at the American Society of Health-System Pharmacists (ASHP), pharmacy technicians have a wide range of responsibilities in a hospital. These can include preparing intravenous infusions, ordering medications, managing drug inventory, and providing customer service to patients and other hospital providers.
Tyffani was a recent guest on 340B Health's 340B Insight podcast. She noted that some pharmacy techs go through additional education and training to serve in advanced roles, such as being business analysts, running medication reconciliation, and operating their hospital's or health system's 340B program.
"340B techs really help their leadership departments by analyzing costs and meeting with vendors and providing recommendations for drugs to their leadership," Tyffani said.
Nan Kempadoo, 340B internal auditor for Memorial Healthcare System in Florida, has observed how there are many opportunities for a rewarding career path.
"Usually, the management roles in 340B programs are former buyers, and former buyers are usually technicians," Nan said. "They're really the best people who are suited to manage our 340B programs, in my opinion."
Nan has spoken at the 340B Coalition Conference's Pharmacy Technician Roundtable session and has also been a guest on 340B Insight. She has seen how the role of pharmacy techs has evolved over the past decade.
"There's definitely an increase in more advanced roles for technicians, not just in quantity, but different types of roles as well," Nan said. "Just starting with the 340B program, we have auditors, senior auditors, program coordinators, program managers, even program directors. In the space of 340B, we kind of went from just being auditors to being all of these managerial roles as well."
Pharmacy techs working in 340B also spend significant time partnering with other members of the pharmacy team to ensure everyone is up to date on any changes that can affect operations and compliance. Whether it is through regular operations calls or site visits, techs stay in communication with their pharmacist colleagues and with each other to support a successful pharmacy.
Workforce Challenges
With all the career opportunities pharmacy technicians have, there remains strong job satisfaction. ASHP's Wingfield said that the association found in a late 2021 survey of pharmacy technicians that 56% reported job satisfaction.
"That desire to help patients and people, that was a motivating, overarching theme throughout the entire survey of our technicians," Tyffani said. "They also mentioned being able to have more flexible work schedules and career ladder development as factors that contributed to their satisfaction."
However, the past few years also have brought significant challenges for pharmacy techs. There is a workforce shortage of techs that has led to heavier workloads. ASHP's survey found that the vacancy rate for the profession in hospital inpatient and outpatient care settings is more than 20%.
The vacancy issue is about more than the COVID-19 pandemic, which has exacerbated workforce shortage issues across health care. Tyffani explained that hospitals and states have increased certification requirements for pharmacy techs. This has led to higher salary expectations. Respondents to ASHP's survey said compensation is one of the top three challenges of their job.
The shortage of techs in the pharmacy department has resulted in other professionals needing to fill these roles. In ASHP's survey, 90% of pharmacy administrators said pharmacists are incorporating tech assignments into their work, which means they have less time to provide clinical care. As a result, some hospitals report not expanding pharmacy services or cutting back on current services due to the workforce shortage.
What's Ahead for Pharmacy Techs
Hospitals have started to make significant adjustments to addressing the pharmacy technician shortage. In ASHP's survey, 75% of pharmacy administrators reported that they had offered pay increases in the past year, which was up more than 40% from the prior year. Some hospitals also are offering off-cycle pay increases, shift bonuses, referral bonuses, and sign-on bonuses for new pharmacy techs.
Changes also are coming to the pharmacy tech recruitment process. More hospitals tell ASHP that they are offering financial support for professional development, providing flexible shift schedules, creating internal tech training programs, and extending pay for external tech training.
Tyffani also believes hospitals should evaluate their staffing models.
"I think an additional layer of pharmacy technician leadership is needed for career ladder development," she said. "Providing those roles for technicians to have advanced roles, like tech-check-tech, where technicians are overseeing other technicians."
Together, the pursuit of these strategies demonstrates how valuable pharmacy technicians are to the pharmacy department and the patient care mission.