November 19, 2020 – The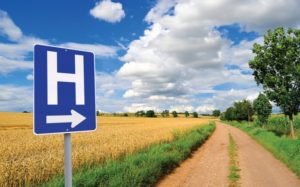 headlines for rural hospitals and providers too often have been disheartening in the past decade. They include the fact that more than 130 rural hospitals have closed since 2010, according to the University of North Carolina Cecil G. Sheps Center for Health Services Research. But on National Rural Health Day, we take the time to celebrate the many success stories and  causes for optimism about rural health, many of which involve the 340B drug pricing program.
The connection between 340B and rural health care is clear and strong. Many critical access hospitals, sole community hospitals, rural referral centers, disproportionate share hospitals, community health centers, and other clinics are 340B covered entities that have vital roles in providing health care services in rural communities. Program savings often are the reason why these rural providers can operate at all. 340B Health research found that 76% of critical access hospitals report that they rely on 340B savings to keep their doors open.
340B hospitals and other providers need these savings because they often operate at a financial loss, in large part due to fewer patients in their communities and a high percentage of patients who are uninsured, underinsured, or enrolled in Medicaid. On a recent episode of 340B Health's podcast, 340B Insight, Alan Morgan, the CEO of the National Rural Health Association, shared that 48% of rural hospitals were operating at a loss at the start of April 2020.
"The ability for those rural hospitals to stay afloat is directly attributable to the 340B program," Morgan said. "It has been a lifeline and a savior to maintaining access in rural communities."
Overcoming COVID-19  
The statistic Morgan shared demonstrating rural hospitals' challenging financial picture was mostly from before the COVID-19 pandemic took hold in the U.S. The pandemic has been difficult for all hospitals, including those in rural communities. For most rural hospitals, the pandemic took longer to arrive, but that does not mean they have been spared. Many of these hospitals spent the spring months suspending elective procedures and working to procure personal protective equipment, other medical equipment, medications, and additional beds. The result was lost revenue and increased spending, but 340B made a big difference in offsetting those losses.
Tracy Gilmore, 340B specialist at Labette Health in Parsons, Kan., shared on 340B Insight how program savings provided Labette with the financial resources to add staff to manage the additional hospital beds in anticipation of a COVID-19 surge. Labette also used 340B savings to waive all out-of-pocket payments for patients during the month of March, when employers in the area were starting to lay off or furlough workers, worsening the uninsured rate.
"340B was our only source of constant income throughout this pandemic," Gilmore said. "And without 340B, I'm not sure where we would be."
Meeting Rural Health's Unique Challenges
340B's positive impact on rural health care started long before the pandemic. CHI St. Alexius Health Williston Medical Center is located 50 miles from the Canadian border near the Bakken oil fields. The boom-and-bust cycles of the oil industry leave many in the community without health insurance for long periods of time. Dave Sandberg, the pharmacy director at the medical center, says 340B enables the hospital to offer critical care in its community that otherwise would not be available anywhere else in the region.
"If our oncology center was not there, then our patients would have to travel five or six hours just to have their infusion therapy," Sandberg said. "By using our 340B savings on our oncology center, we're able to keep that service going for our patients."
Meanwhile, whenever Chuck Beams receives questions about how 340B savings help rural hospitals and their patients, he has plenty of success stories to point to. Beams is executive director of pharmacy services, business development, and government relations at East Alabama Medical Center (EAMC).
The EAMC success stories include the hospital's meds-to-beds program, which uses 340B savings to have a pharmacist meet with patients before they are discharged to ensure they not only understand what medications they need to take at home, but also can afford and access those medications. The results are reduced hospital readmissions and healthier patients.
One of the other ways EAMC is leveraging its 340B savings is by partnering with its local government to staff a mobile health clinic. The clinic, which is inside a bus, will drive around the community and ensure residents with transportation access challenges receive health care services at no out-of-pocket cost.
"It's going to be [using] funds that we would not have if we weren't participating in 340B," Beams said.
Innovation Leading to a Bright Future
Even after the public health emergency ends, the questions about the future of rural hospitals will continue. The National Rural Health Association's Morgan said his organization is proposing a new care delivery model that would result in some rural hospitals providing outpatient services, a 24/7 emergency department, telehealth to support specialty care consultations, and a community needs assessment to determine what other services the community requires. Under this proposal, inpatient bed requirements would be eliminated.
No matter what model rural hospitals ultimately adopt, 340B is destined to remain a major factor in their ability to support the delivery of vital, innovative services. More than a third of critical access hospitals, for example, have reported that they use 340B savings to support a telehealth program. This likely will increase in the coming years.
The future for rural health is showing signs of brightness, and 340B is one of the big reasons why there is light appearing over the horizon.