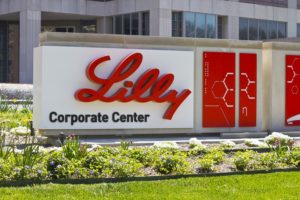 Nov. 1, 2021– The first drug company to deny 340B drug pricing program discounts to safety-net hospitals, health centers, and clinics saw its U.S. revenues jump 26% in the third quarter of 2021, thanks in part to the higher prices it is charging for diabetes drugs sold to 340B providers.
In a public financial report, Eli Lilly said its third-quarter U.S. revenue totaled nearly $4 billion, with big gains for diabetes drugs that include blockbusters Trulicity and Jardiance. "Higher realized prices in the U.S. during the third quarter of 2021 were driven by lower utilization in the 340B segment," the drug giant said.
On July 1, 2020, Lilly became the first drug company to start cutting off 340B discounts for drugs dispensed by community pharmacies through partnerships with 340B hospitals. Since then, seven other drug makers have followed Lilly's lead, including those producing other top-selling diabetes treatments.
Trulicity is one of the company's best-selling drugs, bringing in $4.8 billion in the U.S. in 2020. Jardiance, which is marketed by Lilly and German firm Boehringer Ingelheim (BI), is another top seller, bringing in nearly $2.8 billion in 2020. On Aug. 1, BI began limiting availability of 340B discounts for drugs dispensed through community pharmacies. Both Lilly and BI have received notices from the federal government that their actions are in violation of federal 340B law. Both companies have gone to federal courts to try to block the government's enforcement actions.
For the third quarter of 2021, Lilly reported that its sales revenue for Trulicity totaled $1.6 billion, including $1.2 billion in the U.S. alone, an increase of 45% and 52%, respectively, over the same period in 2020. Lilly says the revenue growth was driven by "increased demand and, to a lesser extent, higher realized prices due to segment mix, including lower utilization in the 340B program."
This is not the first time Lilly has publicly reported financial gains due to its 340B denials. It did so in its final earnings report of 2020 as well as reports for the first and second quarters of this year. The reports also note lower 340B utilization and big gains for the company's Humalog insulin and other major diabetes drugs.
Patient Conditions Could Worsen
The oversize hit that these companies' pricing behavior is putting on diabetes drugs has the potential to upend the health of many patients. According to the Centers for Disease Control and Prevention (CDC), more than 34 million Americans are living with diabetes. Most rely on daily medications to maintain their blood sugar levels and prevent complications, including heart disease, neuropathy, glaucoma, and cataracts.
A recent report by 340B Health found the drug companies that are withholding 340B discounts control more than 90% of the U.S. market for insulin, the most common treatment for diabetes. The diabetes drugs these firms market also represented 91% of all diabetes drug spending by Medicare Part D in 2019. Many of these drugs are high-priced and have undergone considerable price increases within the last decade. Lilly, for example, increased the price of its most popular insulin products by 1,200% between 1996 and 2019. These price increases were well above the rate of inflation, meaning that most of these drugs are even more discounted for 340B covered entities. The companies are reaping significant financial rewards by refusing to honor this 340B pricing.
340B hospitals in Peoria, Ill., Magnolia, Ark., and communities throughout the nation are telling their stories of how patient care has suffered from this manufacturer pricing behavior. Health providers worry that the longer this problem persists, the more numerous and the more dire these stories will become.