July 13, 2022 –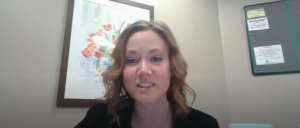 Pharmacist Hali Brown becomes frustrated when she thinks about all the patients in northeast Kansas who have been hurt by drug company restrictions on discounts to safety-net hospitals. For two years, Hali's health system, Community HealthCare System (CHCSKS), has struggled to ensure patients can access the medications they need now that 18 drug companies have imposed restrictions on discounts through the 340B drug pricing program.
"It really hit our patient population hard," Hali said. "We had a lot of patients who were actively utilizing that discount to fill their medications, and overnight that wasn't something that was being offered anymore."
Hali is the pharmacy manager and 340B director at CHCSKS and is featured in our newest Faces of 340B video profile. She describes in the video how her system uses some of its 340B savings it receives through its community pharmacy partnerships to provide low-cost medications to patients who cannot afford their prescriptions. That assistance is under threat now that the 18 companies are restricting hospitals' access to discounted drugs through community and specialty pharmacies.
When three of those drug companies restricted 340B discounts for nearly all insulin available in the U.S., patients who rely on the lifesaving drug to control their diabetes and who lost 340B support suddenly saw their out-of-pocket costs spike from $16 per month to $300. Some patients who were unable to pay for these price spikes saw their health pay the price. CHCSKS experienced an increase in emergency department visits from patients whose blood-sugar levels had become out of control.
Forcing Patients to Travel Farther
The medication access challenges that CHCSKS patients are experiencing are occurring throughout the nation. The number of stories are mounting of patients who have had to switch medications or ration their medications because they no longer could afford them due to drug companies' unlawful 340B restrictions.
According to a recent 340B Health survey, 75% of hospitals participating in 340B report that drug company restrictions are causing delayed access to drugs for patients who receive 340B-discounted drugs. Sixty-one percent of the hospitals reported logistical barriers to patient drug access, and half of the hospitals noted the need for disruptive prescription changes. Moreover, 41% of hospitals reported that patient health outcomes suffered from the drug company restrictions.
At CHCSKS, partnerships with community pharmacies are the only way for patients to receive outpatient drugs through the health system because it does not have its own in-house outpatient pharmacy. The health system is serving a rural community centered around its critical access hospital. The hospital and CHCSKS family clinics provide care to patients who often drive 30 to 60 minutes to receive health services.
When selecting community pharmacies to partner with, Hali explains that CHCSKS ensures the pharmacies are in the communities where patients live so they do not need to travel far and can go to pharmacies they already know. Some drug companies have limited hospitals without in-house pharmacies to a single community pharmacy partnership, which creates a major dilemma.
"The challenge for us is how do you select which pharmacy that will be?" Hali says. "How do you figure out which of your patients are going to have to drive 60 minutes to access that price versus 10 minutes to their local pharmacy?"
340B Meeting Unique Community Needs
340B savings also support vital community health services at CHCSKS that otherwise would be limited or unavailable in the rural areas it serves. The health system's community needs assessment identified a need for more specialized mental health providers, so it invested some of its 340B savings into mental health first aid education that staff members use to train community members. This training empowers residents to help their neighbors and friends with mental health challenges.
The northeast Kansas area that CHCSKS serves is heavily focused on the agriculture industry. After the system determined that farming accidents were one of the leading causes of injury, it funded "Stop the Bleed" training for some of its staff to pass onto farm workers. The training focuses on the initial steps bystanders can take to help someone who is severely bleeding in the minutes following an accident. This is vital in the rural areas CHCSKS serves because it can take 30 minutes to an hour for an ambulance to arrive.
340B's support for all these services, its support for low-cost medications for patients in need, and its ability to keep the health system viable in a rural community are all positive factors for patient health outcomes. Hali worries that if drug company 340B restrictions continue, there will be an opposite effect.
"We'll see patients with increased ER visits," Hali said. "We'll see them with reduced control of some of their chronic conditions. That will result in poorer health in our communities."
Check out Hali's video profile on our Faces of 340B website.