April 22, 2022 –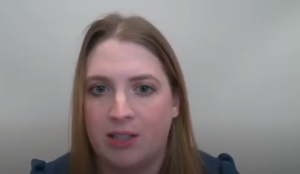 A bell rings and a round of applause is heard. A patient is marking the end of their cancer treatments at St. Anthony Regional Hospital in Carroll, Iowa. The patient knows the chemotherapy and radiation treatments they received from the St. Anthony Regional Cancer Center enabled them to reach this special day. What they may not realize is that the hospital's partnerships with community pharmacies through the 340B drug pricing program are what provided the necessary resources to build the cancer center and extend them this lifesaving care.
The cancer center opened in 2020. St. Anthony's Director of Pharmacy Erin Monthei explains that its opening was a turning point for cancer care in the seven predominantly rural counties in western Iowa that the hospital serves. The new cancer center is larger than its predecessor, has more state-of-the-art technology, and offers more appointment times for patients to receive care.
"We have patients traveling up to 70 miles for treatment," Erin said. "For these patients, that is a huge deal. We're going from an overnight trip to a larger city to now a day trip where they can be closer to their home, their support system, and their loved ones."
Erin is featured in our newest Faces of 340B video profile. She shares this example to convey just one of the many ways patients benefit from the 340B savings that the hospital receives through its community and specialty pharmacy partnerships.
Financial Assistance for Patients Is at Risk
Community pharmacy partnerships with safety-net hospitals provide many patients a more accessible option to obtain their medications close to home as well as access to complex specialty drugs that they need. The hospital in turn benefits from crucial 340B discounts on costly medications.
Despite these clear benefits for the health care safety net and the patients it serves, 16 drug companies have implemented or announced restrictions on community pharmacy partnerships over the past two years. The result has meant 340B hospitals throughout the nation often have lost millions of dollars in savings that they otherwise would have invested in patient care. Instead, drug companies have pocketed these dollars.
If these restrictions continue, 340B urban and rural hospitals report that they likely will need to make cuts to the uncompensated and unreimbursed care that they provide. This would mean reduced access to care for uninsured patients as well as to important services that Medicaid and other payers do not cover or fully reimburse.
St. Anthony is no exception among the hospitals that have seen the drug company 340B restrictions squeeze their resources. Erin has deep concerns about what her hospital's lost 340B savings could mean for the future of the St. Anthony Cares program. That program helps pay the hospital bills for patients who are uninsured or underinsured.
"We saw a significant decrease in what we were able to put toward our St. Anthony Cares Program," Erin said. "We're getting to the point where we may have to make cuts to that program and not be able to provide all the patients that we typically have with that financial assistance. That is why it's vital for these manufacturers to stop cutting 340B discounts."
Committed to the Community
Even with the drug company actions limiting 340B, St. Anthony remains committed to maximizing program resources to expand rural health care access and help patients obtain the care they need right in their own community.
Erin explains how the hospital stepped up to care for a patient with a rare kidney disease. The patient's health insurance only paid for part of the infusion drug treatments he needed every two weeks. The hospital used its available resources to cover the annual $273,000 payment shortfall for the drugs, a figure that does not even include additional infusion costs and supplies.
"We wanted to do this for our community," Erin said. "We got together and based on our 340B program savings we were able to take this patient on."
As a result, the patient received his care without having to travel far, and his caregivers did not need to take off as much time from work. Today, the patient's condition has significantly improved to the point where his medical team believes he soon may no longer require treatments.
That would be another patient who could ring a bell and cheer thanks to help from 340B.
Check out Erin's video profile on our Faces of 340B website.